News & Events
News updates

15th January 2023

The database for applications is now closed (for both the scholarship as well as those with own funding). We will open up the application registration again in October 2023. Want to receive notification? Then sign up for our newsletter here. 
30th September 2022

Our 2023 intake is now open – please see the application page 
Some statistics on our 2022 intake who just started their 1st year in the GEM programme in Tartu or Lund.
We received 532 eligible applications for the 2022 intake. 520 were from Partner Countries and 12 were from Programme Countries across 62 nationalities. 372 were male and 148 were female.
We awarded 15 Erasmus+ scholarships and welcomed one self-funded student across 16 nationalities; eight male and eight female.
While we welcome applications worldwide, we would particularly like to see more applicants from Programme Countries .  25% of our scholarships are allocated to Programme Country applicants due to the conditions of the Erasmus+ Programme grant.
20th January 2022

As of 13 January 2022 at 23:59 the Erasmus+ scholarship application has been closed. We are very happy with the number of applicants!
We have received 532 eligible applicants
371 male applicants
147 female applicants
518 partner countries
8 programme countries
The committee will review the applications and we will announce the result by the 1st May 2022.

For those who missed the scholarship application deadline, the application for self-funded students is still open. If you apply for the GEM Master's on a self-financing basis, the deadline for registration for Non-EU students is 1st June 2022 and for EU students it is 1st July 2022. For more information please visit our website (https://www.gem-msc.eu/application-procedure/finances-for-self-funded-students/).
6th December 2021
The #30DayMapChallenge ended last week. A month where our current GEM students participated in the challenge and produced some wonderful maps. Well done everyone!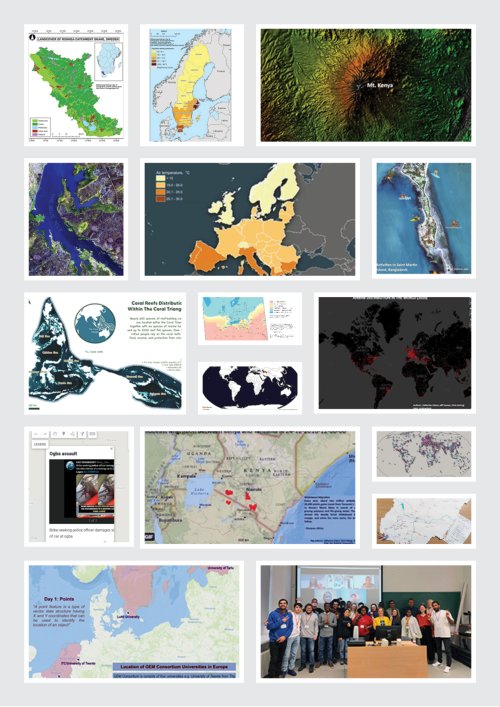 26th November
If you have missed the webinar on 25th november, where we provided our participants with information and answered questions they had, then you will be happy to know that we have recorded it!
20th November 2021: 
Do you want to know if studying GEM is a good fit for you? Sign up for this (free) Zoom webinar on Thursday, 25 November 2021, 1:00-2:30 PM (Amsterdam Netherlands Time) and find out!
During the webinar, you can chat with our programme representatives and ask any questions you might have!

15th November 2021: 
After weeks of hard work by the GEM team, its partners and the designers, we are proud to announce that we have developed an online GEM brochure that you can download yourself! 
The brochure contains a lot of information about the programme itself, the MSc course and its tracks and other interesting need-to-knows! Our alumni aswell as our current students have provided their opinions and we are proud of their positive views on our programme. 
15th October 2021:
The GEM students participated in a hack-a-thon to create maps for the upcoming 30-day-map-challenge that takes place in November! The maps they have created will be shown on the GEM Twitter page.

13th September 2021:
Last Thursday the new GEM students had the chance to meet up with each other and the consortium partners online for an introduction. It was a very nice opportunity to introduce ourselves to each other.
We wish all the new GEM students good luck in the start up of their courses!

Meanwhile, preparations are being made to get the database for applications opened, estimated is this will happen around half October this year.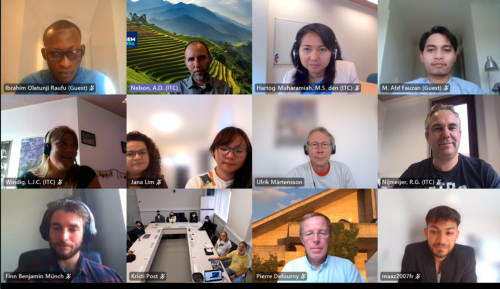 4th June 2021:
Selection results and Erasmus+ scholarships 2021
The selection for the 2021 edition of the Erasmus Mundus Joint Master Degree in Geo-Information Science and Earth Observation for Environmental Modelling and Management (GEM) has been completed now. All 15 applicants that were awarded an Erasmus+ scholarship in this intake have accepted the offer. Last week the European Education and Culture Executive Agency (EACEA) officially confirmed the lists of selected and reserve candidates.

Facts and figures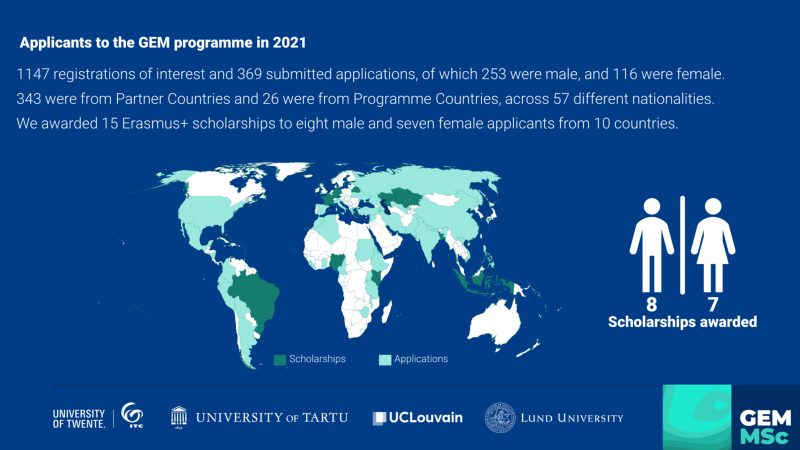 The GEM programme is a highly competitive master's programme.  Unfortunately, the consortium can only offer a limited number of scholarships per intake. During the selection meeting, where are all four partner universities were present, 15 (2 partner country and 13 programme country) applicants were selected for a scholarship, and 54 candidates made it to the reserve list.
 We want to thank all the applicants for their interest in the programme, and we encourage them to re-apply for the next intake. The consortium is planning to open the application database for Erasmus+ scholarships in September/October 2021.
Activities and Events
In progress/planning phase, more information coming soon!